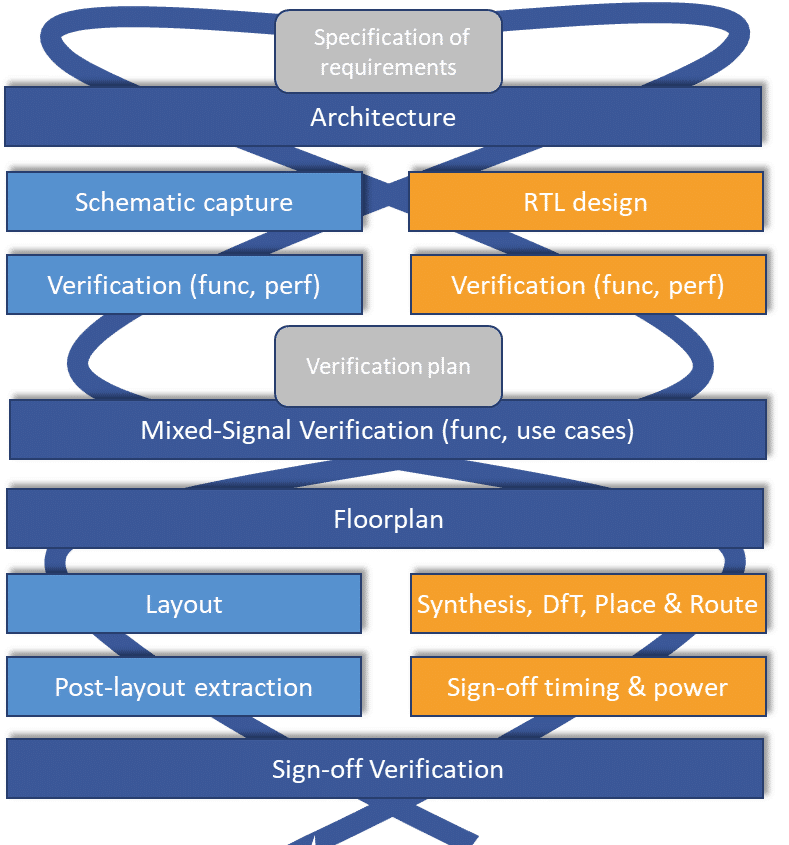 Architecture, Design, Verification, Implementation
Our team has put in place a robust mixed-signal design flow, ISO 13485:2016, EN/AS/JISQ 9100:2018 and ISO 9001:2015 certified.
In-house migration tool
Accurate performance estimation when using alternative process components
Speeds up the migration of schematics from one technological process to another
Ensures fast and accurate estimation of achievable performance (power, speed, area, etc.).
ASIC characterization in our lab
Our team has elaborated a measurement environment for characterizing analog and digital ASIC, with the capability of
Generating automatically reports from a characterization plan
Performing voltage and temperature characterization
More info about lab characterization of ASICs?
Partnering with industry leaders
We have formed key local and international partnerships with industry leaders to provide our customer with highly innovative ASIC designs drawing on the best technology the industry has to offer in the areas of IP and EDA tools.
Tracking of customers' requests from the specification of needs up to the silicon validation
Independency between design and verification

Performance assessment from architecture to layout
Compliance of the successive implementation results with the requirements
Our services
We work collaboratively with you to turn your idea into a differentiated ASIC solution exclusive and custom-made to help you achieve your business goals.
Contact our mixed-signal ASIC design experts
Tell us about your project