About eFPGA
An embedded FPGA (eFPGA) is a programmable IP core integrated into SoCs or custom ICs (ASIC).
eFPGA technology is winning converts among system architects because market requirements are constantly changing and integrated circuits are becoming increasingly complex and expensive to develop
A first demonstrator in TSMC 55 nm ULP process technology back from fab and tested fully functional
3200 4-inputs look-up tables (LUTs)
Standard cell based to enable seamless generation from an RTL netlist
Technology independent core (standard cell based)
Fully integrated into standard RTL design flows
Generated and programmed with ENSTA's ArGen framework
IC'Alps was handed the responsibility of silicon implementation and prototyping, both needed to make a first demonstrator of ENSTA's technology. The company was in charge of IC definition, foundry process selection, design (synthesis, floorplan, IO ring, place & route), design for testability, post layout simulations and verifications before launch in fabrication. IC'Alps took in charge the required supply chain management including selection of partners, fabrication, and package assembly.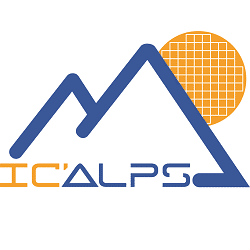 Our Team has supported ENSTA-Bretagne from ASIC specification, reached tape-out and delivered packaged dies on-time, even during this COVID period. Last but not least, the team demonstrated its implication to reach first silicon good silicon.

Jean-Luc Triouleyre,CEO of IC'Alps
Download the announcement [EN]